CSR Activities
1. SUMCO's CSR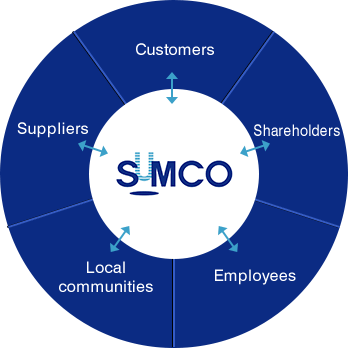 Based on its aim of playing a leading role in the development of industry and the improvement of living standards through the supply of silicon wafers, an essential substrate material for semiconductor devices, SUMCO aspires to serve society as a good corporate citizen. As such, SUMCO undertakes a wide spectrum of CSR activities.
We believe that companies are expected to meet their corporate social responsibilities from two perspectives.
Firstly, companies have an obligation to ensure compliance, safety, and environmental sustainability as corporate citizens, and are responsible for maintaining and improving the quality of their products and services and returning profits to society as part of their business activities. This obligation and responsibility are the foundation of CSR, and companies need to have effective corporate governance to fulfill them. For this reason, SUMCO regards corporate governance and corporate ethics as fundamental management issues.
Secondly, on top of this foundation, companies also need to proactively conduct social contribution activities outside their business domains. These activities include environmental maintenance, educational and cultural initiatives, and support for employees' volunteer activities. In this regard, SUMCO actively engages in local beautification projects and educational and cultural activities with the aim of becoming a good partner for local communities.
(1) Compliance
SUMCO Charter of Corporate Conduct
SUMCO believes that to expand its business and achieve sound growth, executives and employees need to comply with both laws and their underlying spirit as well as adhering to ethical and other social norms in order for the Company to be accepted by the global community.
Positioned above the Company's various rules and compliance programs, the SUMCO Charter of Corporate Conduct is the supreme set of principles guiding our conduct at work.
It defines how executives and employees should act so as to enable the Company to fulfill its social responsibilities and achieve further growth.
We appoint a Chief Compliance Officer to serve as the company-wide supervisor and monitor the Company's compliance with the charter. Meanwhile, a supervisor in each department regularly reports to the Chief Compliance Officer on how well the charter is observed within his or her department. Each Group company also maintains its own code of conduct, which is similar to the charter, to establish a framework for corporate ethics and develop a compliance structure.
Internal Hotline
An internal reporting hotline has been in place since 2006. We also established an appointed outside lawyer to whom an internal report is to be made. We ensure that all Company employees know how to use the hotline and contact the lawyer by, among other means, distributing explanatory compliance cards.
Fair Business Activities / Anti-Corruption
In the light of prohibition against corruption including bribery, SUMCO clearly provides for compliance with law and prohibition against providing unlawful profits to public servants in SUMCO Charter, and further sets forth "Rules on Handling Grant of Benefits" to prevent briberies and unfair transactions.
Under SUMCO's Rules on Handling Grant of Benefits the following is prohibited: (1) to make contributions and donations to politicians in violation of the Political Funds Control Act and/or the Public Offices Election Act of Japan; (2) to offer favorable benefits in the form of excessive entertainment or gifts, with the aim of seeking return or receiving favors, in connection with duties of civil servants; (3) to deal with antisocial forces or groups; (4) to give financial benefits concerning the exercise of rights of shareholders; (5) to offer excessive entertainment or gifts, beyond the extent permitted by social ethical standards; and (6) to provide any type of illegal benefit or favors or engage in transactions which could be recognized as unfair or unjust under social ethical standards. We have also set specific criteria for the activities listed below and permit these activities to be undertaken only when the criteria are met and proper approval is given. The activities are: making donations; providing sponsorship; payment of entertainment expenses/giving celebratory or condolence gifts; purchasing advertising; subscribing to or purchasing newspapers, magazines, or other publications; payment of membership dues to external organizations; and outsourcing.
SUMCO posts "Rules on Handling Grant of Benefits" on its internal network for review by all, and to educate all of officers and employees by the training program of the SUMCO Charter of Corporate Conduct. How compliance is accomplished or not each Division of SUMCO is regularly reported to the Chief Compliance Officer.
Renouncing Relationships with Antisocial Forces
SUMCO Charter declares that the Company denounces any kind of relationship with antisocial forces and rejects any requests or demands from such forces. It is ensured through education and training that all executives and employees of the Company are constantly reminded of the importance of this policy.
(2) CSR Procurement
Basic Stance
SUMCO promotes responsible procurement to fulfill our social responsibilities across our entire supply chain. Together with our suppliers, we pursue procurement that gives due consideration to human rights, work environments, safety and health, environmental conservation, and other issues to ensure that customers can use our products with peace of mind and enhance the satisfaction of various stakeholders.
Promotion of Our CSR Policy
Through periodic briefings to suppliers and daily procurement activities, we request our suppliers to make voluntary efforts to promote CSR-oriented management. Specifically, we distribute to each supplier a copy of our Supplier Handbook, which includes a section on CSR as well as our Purchasing Policy and requests to suppliers. The Supplier Handbook is also posted on the procurement website for easy reference at any time.
In this Supplier Handbook, we request our suppliers to promote CSR in the supply chain, and the Supplier Handbook also contains, as an attachment, guidelines on CSR activities that we invite our suppliers to voluntarily conduct which we have prepared and is based on the Electronic Industry Citizenship Coalition (EICC) Code of Conduct. Suppliers are requested to utilize these guidelines for their own CSR management practices and to also encourage their secondary and tertiary suppliers to use and follow the guidelines.
In addition, we asked our major suppliers to fill out CSR Questionnaire which we had prepared in accordance with the EICC Code of Conduct and checked the collected questionnaires to evaluate the current situation regarding the suppliers' CSR practices.
Based on suppliers' response to CSR Questionnaire, we perform the CSR audit including an on-site audit for certain suppliers.
Elimination of Conflict Minerals
Through periodic supplier briefings and the Supplier Handbook, SUMCO requests its suppliers to meet the requirements of EICC Code of Conduct concerning conflict minerals (tantalum, tin, gold or tungsten).
[Principal Articles of CSR Questionnaire]
1. Human Rights and Labor :
 (1) Freely Chosen Employment
 (2) No use of Child labor
 (3) Limitation of Working Hours
 (4) Lawful Wages
 (5) Humane Treatment
 (6) Non-Discrimination
 (7) Freedom of Association
2. Health and Safety :
 (1) Control of Occupational Safety
 (2) Being Prepared for Emergency
 (3) Prevention of Occupational Injury and Illness
3. Environment :
 (1) Compliance with Environmental laws and regulations
 (2) Pollution Prevention and Waste Reduction
 (3) Control of Energy Consumption and Greenhouse Gas Emission
4. Ethics
 (1) Compliance with Laws
 (2) Fair Business Activities
5. Business Continuity
 (1) Risk Assessment and Risk Management
 (2) Business Continuity Plan (BCP)
6. Contribution to Society
7. Management System
(3) Interaction with Employees
Respect for Human Rights
■ Basic Policy
The SUMCO Group prohibits any discrimination based on race, religion, gender or any other irrational reason.The SUMCO Group does not use child labor or forced labor, and complies with legal minimum wages.
■ The Human Rights Awareness Promotion Committee
The SUMCO Group holds a meeting of the Human Rights Awareness Promotion Committee, made up of representatives from all Group companies, every year to ensure that human rights awareness-raising activities are conducted on an ongoing basis throughout the Group. At the meeting, the policy for activities for the coming fiscal year is decided and shared so that activities based on that policy-including lectures by external experts and training using audiovisual aids-will be carried out at each site and Group company.
■ Maintenance of comfortable and pleasant working environments
Furthermore, to maintain a comfortable and pleasant working environment at all times, a workplace bullying consultation desk is set up at each site where both male and female staff members are available for consultation by anyone whenever needed.
Moreover, the SUMCO Group does not use child labor of any kind, and through daily work management, ensures the absence of illegal excessive working hours and forced labor. We also ensure that both male and female employees receive fair treatment and that the pay system is not gender-biased.

Utilization and Fostering of a Diverse Workforce
■ Employment of People with Disabilities
SUMCO established SUMCO Support Corporation, which gives special consideration to employing people with disabilities, in 2004. In May the same year, SUMCO Support was designated as a "special subsidiary company" by the government. Ever since, people experiencing various challenges in their lives have found job opportunities and been employed in a wide range of areas, both at SUMCO Support and various other Group companies.
The SUMCO Group continues its efforts to fit the right person to the right job in order to help individual employees reach their full potential as well as to provide employment opportunities and maintain and improve supportive work environments for people with disabilities.
■ Employment of Older Workers
SUMCO has a post-retirement reemployment scheme in place that allows experienced and willing employees to continue to contribute their high-level skills after mandatory retirement at age 60, provided their skill sets meet the Company's needs. Employees reemployed under the scheme can work until the age of 65.
Due to the amendment of the Act on Stabilization of Employment of Elderly Persons enforced on April 1, 2013, we have gradually abolished the criteria limiting employees' eligibility for reemployment under a "transitional measure," as defined in the act, and reemployed all employees who wish to continue to work.
Childcare Leave and Nursing Care Leave We support employees' childcare and other family care responsibilities by offering childcare leave, nursing care leave, and special work arrangements for employees with a child aged under three years old.
■ Employment of Global Employees
The SUMCO Group has plants in the United States, Taiwan, and Indonesia and a network of sales offices around the world. Committing to local employment, and we actively recruit employees with outstanding talent regardless of nationality, aiming for further growth as a global company.
(4) Risk Management
SUMCO has established its Risk Management Basic Rules which set forth fundamental matters concerning risk management. An information communication route to be used in the event of materialization of a risk as well as procedures to respond to a disaster, including the setting up of emergency headquarters have been done in accordance with the rule.
Risk Management Basic Policies
To ensure the protection of all resources necessary for the continuation of business activities, including personnel, property, funds, and public trust, SUMCO regularly promotes measures to:
(1) predict risks and prevent their occurrence (preventive measures against risk occurrence); and
(2) minimize damage in the event of risk materialization (response measures to minimize damage).
Our basic policy in promoting risk countermeasures is as follows:
a. Prioritize risks by likelihood of occurrence and severity of impact to ensure optimum allocation of management resources and maximize effectiveness of measures.
b. Minimize damage and loss by preventing the suspension or discontinuation of business activities to ensure business continuity in the case of an accident or other emergency situation.
Major Risks Recognized in Risk Management Basic Rule
① Risks on General Management
② Risks on Accidents and Disasters
③ Risks on Discontinuation of business
④ Risks on Compliance
⑤ Risks on Information
⑥ Risks on Intellectual Properties
⑦ Risks on Human Resources and employment
⑧ Risks on Taxation, and Accounting
⑨ Risks on Products and Services
⑩ Risks on Safety and Sanitation
⑪ Risks on Environment
⑫ Risks on Credit Limit
2. CSR Report
CSR Report 2018
CSR Report 2018 [4.04MB/42Pages]