To Our Shareholders and Investors
Top Message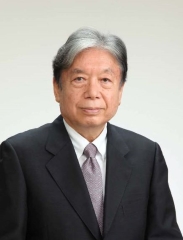 I am deeply grateful to you, our shareholders and investors, for your ongoing support of SUMCO.
The market for semiconductor silicon wafers in the fiscal year 2018 remained strong for all diameters. We saw further growth in 300 mm wafers, driven by such uses as memory for data centers facing increased data traffic, and high-end logic devices. Demand for smaller-diameter wafers of 200 mm and below also continued solid, driven notably by in-vehicle uses.
Looking at the near-term outlook for the worldwide semiconductor silicon wafer market, while the market for cutting-edge smartphones and data centers is in a correction phase, firm demand is expected in such areas as power semiconductors, sensors, and in-vehicle uses.
Given this market climate, our Group will continue developing state-of-the-art technologies that give our products a competitive edge. Since demand growth continues to be expected in the medium term, we will seek to meet customer needs through phased augmenting of production facilities premised on appropriate price levels.
I welcome your continued warm support and cooperation.
Mayuki Hashimoto, Representative Director
Chairman & Chief Executive Officer
SUMCO Vision

Vision 1
World's Best in Technology

Vision 2
Deficit-Resistant Even during Economic Downturns

Vision 3
Empower Employee Awareness of Profit

Vision 4
Competitiveness in Overseas Markets