To Our Shareholders and Investors
Top Message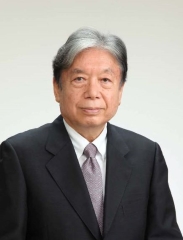 I am deeply grateful to you, our shareholders and investors, for your ongoing support of SUMCO.
The market for semiconductor silicon wafers in the third quarter consolidated cumulative period enjoyed continued solid demand for all wafer diameters, driven by robust needs for semiconductors in such applications as data centers, computing, AI, IoT, and self-driving vehicles.
In the case of 300 mm high-precision wafers in particular, required for manufacturing leading-edge semiconductors, demand continued to outpace supply capability. Major drivers of this demand included data centers, seeking to meet further growth in data traffic, and high-end logic devices.
Demand for smaller wafers of 200 mm and below was driven by in-vehicle, industrial, and IoT applications, with the tight supply/demand situation continuing for these wafers as well.
Given such a market climate, our Group will continue developing state-of-the-art technologies that give our products a competitive edge. In response to customer requests for production increases, along with raising our productivity, we will seek to meet these needs through phased augmenting of production facilities premised on appropriate price levels.
I welcome your continued warm support and cooperation.
Mayuki Hashimoto, Representative Director
Chairman & Chief Executive Officer
SUMCO Vision

Vision 1
World's Best in Technology

Vision 2
Deficit-Resistant Even during Economic Downturns

Vision 3
Empower Employee Awareness of Profit

Vision 4
Competitiveness in Overseas Markets