To Our Shareholders and Investors
Top Message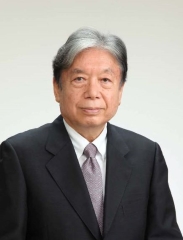 I am deeply grateful to you, our shareholders and investors, for your ongoing support of SUMCO.
During the first quarter of fiscal year 2021 (January 1, 2021–March 31, 2021), the supply of 300 mm wafers for logic continued to fall short of the strong demand driven by PC, smartphone, and data center, while wafers for DRAM saw ongoing demand recovery. Supply and demand tightness continued also for wafers of 200 mm and smaller with expanding demand for automotive and consumer.
In this environment, in line with the SUMCO Vision, the SUMCO Group sought to maintain our strong presence with customers through technology development aimed at meeting their needs for leading-edge, distinctive products, while endeavoring also to improve our profitability by cost reduction.
The second quarter outlook for the 300 mm semiconductor silicon wafer market is for expanding growth, marked by increasing supply and demand tightness for logic and, in the memory segment, expected recovery for NAND in addition to wafers for DRAM. Supply and demand balance is forecast to be increasingly tight for wafers of 200 mm and smaller, driven by automotive, consumer and industrial.
In this market environment, the Group will continue seeking to enhance the competitive advantage of our products by developing technologies for state-of-the-art wafers for which continued demand growth is expected, while endeavoring to meet customer needs for these products through productivity improvements making greater use of AI, and through ongoing augmenting of equipment capacity in line with this demand. We will also be paying close attention to changes in the market environment including the impact of COVID-19 and US-China trade friction.
I welcome your continued warm support and cooperation.
Mayuki Hashimoto, Representative Director
Chairman & Chief Executive Officer
SUMCO Vision

Vision 1
World's Best in Technology

Vision 2
Deficit-Resistant Even during Economic Downturns

Vision 3
Empower Employee Awareness of Profit

Vision 4
Competitiveness in Overseas Markets