To Our Shareholders and Investors
Top Message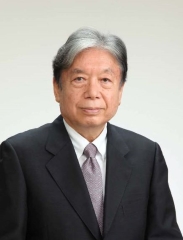 I am deeply grateful to you, our shareholders, for your ongoing support of SUMCO.
During the third quarter of fiscal year 2023 (July 1, 2023–September 30, 2023), the semiconductor market continued to see adjustments in logic and memory chip production, as demand for their end products including personal computers and smartphones remained weak.
Impacted by customers' production adjustments, 300 mm silicon wafer demand declined for both logic and memory use.
Demand for wafers of 200 mm and smaller continued to decline as well, mainly for consumer and industrial use.
In this environment, the SUMCO Group, toward realization of the SUMCO Vision, sought to maintain our high share of advanced products through technology development aimed at meeting customer needs for higher precision and producing distinctive products, while endeavoring to become more profitable by raising productivity with the use of AI.
Looking at the outlook for the fourth quarter of fiscal year 2023 (October 1, 2023–December 31, 2023), while there are products that should see solid demand, such as in the AI and automotive (EV) fields, demand for personal computers, smartphones, and other such products is expected to remain weak, with customers continuing to curtail production and make inventory adjustments. As a result, the correction phase in the silicon wafer market is forecast to continue as well.
To meet increased silicon wafer demand in the medium to long term, the Group will carry on with technology development for high-end products and promote greater productivity, while working to build a production structure capable of agilely responding to market fluctuations. We will also be paying careful attention to the impacts on the global economy from recently heightening geopolitical risks and from monetary policy in each country.
For the period ending December 2023, based on an overall consideration of the profit levels in this period, the future outlook, funding needs for capital investment, and the status of internal reserves, an end-of-term dividend amount of 10 yen per share has been expected. This brings the full-year dividend amount to 52 yen per share, and total dividends to 18.2 billion yen, for a consolidated dividend payout ratio of 30.5%.
As we continue paying close attention to the economic environment for the Company and earnings status, along with funding needs and industry trends, we want to provide our shareholders with appropriate return in keeping with the situation.
I welcome your continued warm support and cooperation.
Mayuki Hashimoto, Representative Director
Chairman & Chief Executive Officer
SUMCO Vision

Vision 1
World's Best in Technology

Vision 2
Stable Profitability Even During Economic Downturns

Vision 3
Empower Employee Awareness of Profit

Vision 4
Competitiveness in Overseas Markets