To Our Shareholders and Investors
Top Message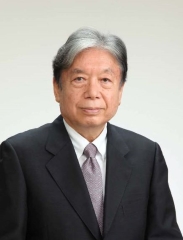 I am deeply grateful to our shareholders and investors for your ongoing confidence in SUMCO.
During the third quarter of fiscal year 2022 (July 1, 2022–September 30, 2022), the market for 300 mm semiconductor silicon wafers continued to see strong demand, exceeding supply capacity, for both logic and memory applications, driven by expanding data center needs and growth in automotive use.
In the market for 200 mm wafers as well, full production continued, to meet strong demand for automotive and industrial uses.
As for wafers of 150 mm and smaller, supply-demand tightness eased, as a correction phase began mainly for consumer use.
In this environment the Group, on the way to realizing the SUMCO Vision, has endeavored to maintain our high market share in leading-edge products through technology development, aimed at meeting customer demands for higher precision and making distinctive products, while seeking also to improve our profit-and-loss fundamentals by raising productivity with the use of AI and becoming more cost-competitive.
Looking at the fourth quarter outlook for the 300 mm semiconductor silicon wafer market, production adjustments have begun due to softening of demand in the PC and smartphone end-product markets, whereas strong demand is continuing for automotive and data center needs. As a result, while we may see higher or lower orders depending on the customer, full production is expected to continue.
Full production is forecast to continue also in the 200 mm wafer market, as automotive and industrial needs remain solid.
On the other hand, for wafers of 150 mm and smaller, a correction phase is expected to continue, mainly for consumer needs.
In this market environment, our Group will steadily proceed with the production expansion plans decided last year. We will also further boost the distinctive advantage of our products by developing technologies for leading-edge wafers for which we expect continued strong demand growth, while carrying out productivity improvements making greater use of AI, so that we can meet customer needs.
At the same time, we will be paying close attention to the impacts on the global economy from geopolitical risks including US-China trade friction and the Russian invasion of Ukraine, financial tightening by countries to curb inflation, and other factors.
While the end of term dividend amount for the fiscal year ending December 2022 had earlier been undecided, we have now decided on a dividend of 42 yen per share based on an overall consideration of such factors as the profit levels in this period, the outlook for the next period and beyond, funding needs for capital investment, and the status of internal reserves. Together with the interim dividend of 36 yen, we expect the full-year dividend to be 78 yen, for a consolidated dividend payout ratio of 40.3%.
On October 28, we announced the acquisition of the semiconductor polysilicon business of Mitsubishi Materials Corporation. By acquiring the business for manufacturing semiconductor polysilicon, an essential and key raw material of silicon wafers, and trichlorosilane essential for making epitaxial wafers for logic semiconductors, our mainstay product, we will gain the capability for total manufacturing from raw materials to the final products. I am confident that we will be able to leverage this advantage to raise the corporate value of the Group.
I welcome your continued warm support and cooperation.
Mayuki Hashimoto, Representative Director
Chairman & Chief Executive Officer
SUMCO Vision

Vision 1
World's Best in Technology

Vision 2
Stable Profitability Even During Economic Downturns

Vision 3
Empower Employee Awareness of Profit

Vision 4
Competitiveness in Overseas Markets