The SUMCO Group's Business Activities and the Sustainable Development Goals (SDGs)
Silicon wafer products from SUMCO are not seen first-hand in everyday life, but they are essential to the manufacturing of the semiconductor devices equipped in all manner of electronic products that enrich our lives.
To fulfill our responsibilities as one of the companies supporting social infrastructure, SUMCO utilizes the SDGs as indicators of the medium-to-long-term demands of the international community and makes every effort to realize a sustainable society.
Main Goals of the SDGs and SUMCO's Initiatives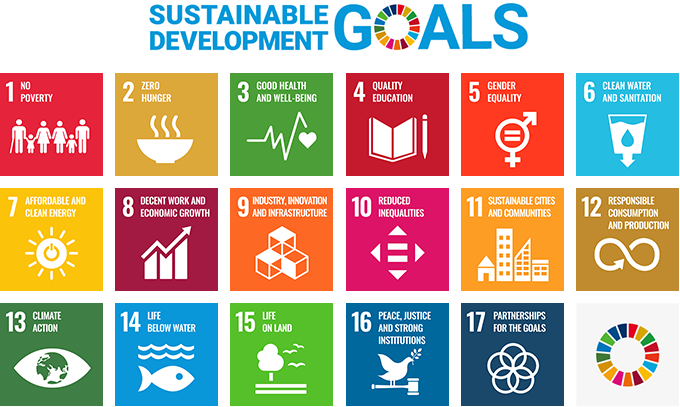 Contributing to the SDGs through our products
Contributing to the digital infrastructure supporting our daily lives
Silicon wafers that serve as the basic materials for a wide range of semiconductor devices including communications equipment, automobiles, digital appliances, medical equipment and urban infrastructure
Contributing to reduce traffic accidents
Silicon wafers for the automotive semiconductor devices supporting driver assistance systems such as self-driving and automatic braking
Contributing to make cities secure and safe
Silicon wafers for security cameras, communication network tools utilized in smart grid system and various IoT tools
Contributing to improved energy efficiency
Silicon wafers for power-saving devices
Contributing to curb greenhouse gas emissions
Silicon wafers for IGBTs which are utilized for electric vehicles (EV) and hybrid vehicles (HV, PHV)
Contributing to the SDGs through business processes
About the SDGs
SDGs, or the Sustainable Development Goals, refer to the goals laid at in "Agenda 2030", which was adopted at the "United Nations Sustainable Development Summit" in September 2015. The SDGs comprise 17 goals and 169 targets to be achieved by the year 2030.
The goals and targets of the SDGs comprehensively deal with the various issues faced in the areas of the economy, industry and society. As the central figures of economic activities, companies are expected to play a key role as one of the main parties responsible for achieving the SDGs.