SUMCO Vision
SUMCO Strives to be an Excellent Company through the Combined Power of All its Employees
1. World's Best in Technology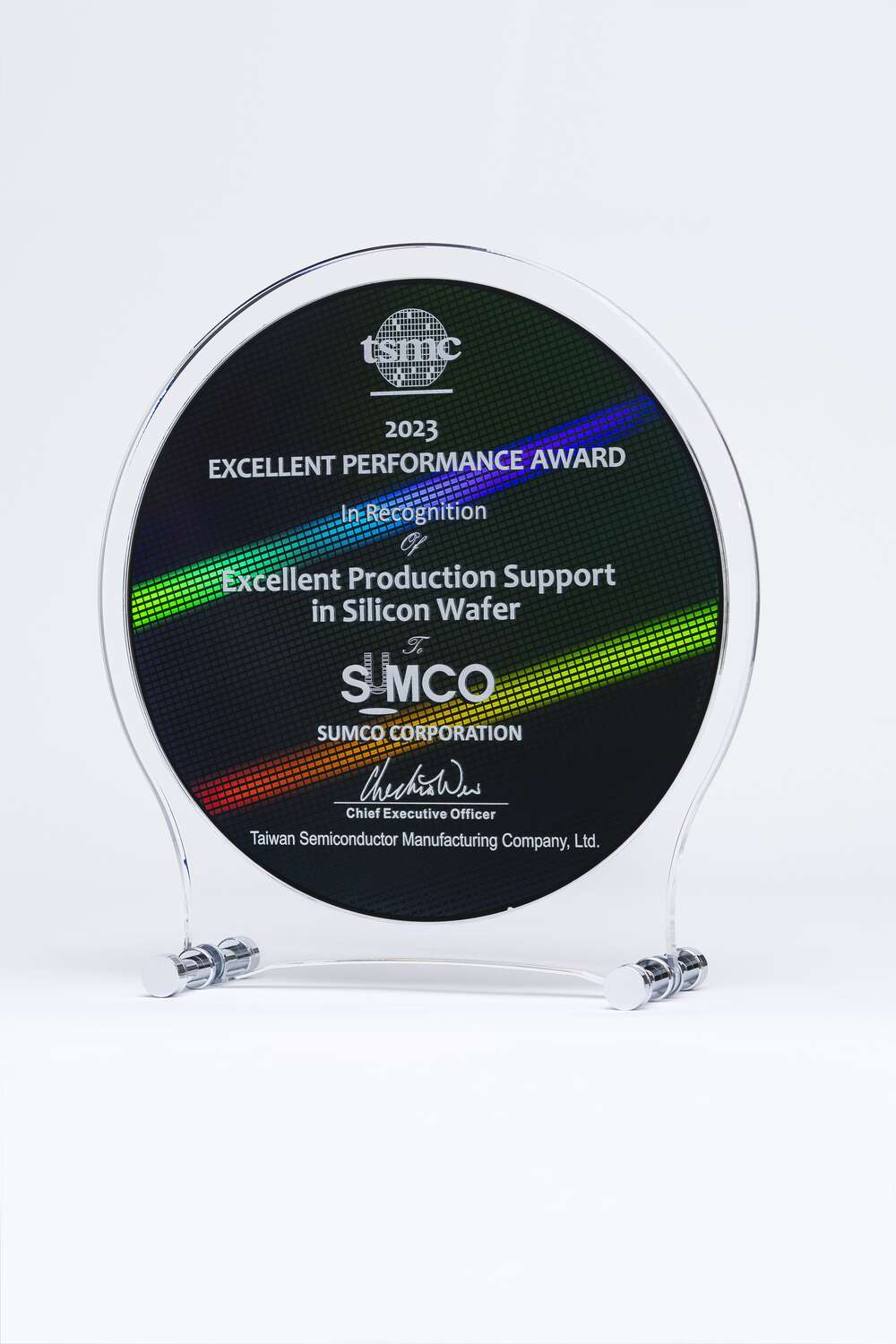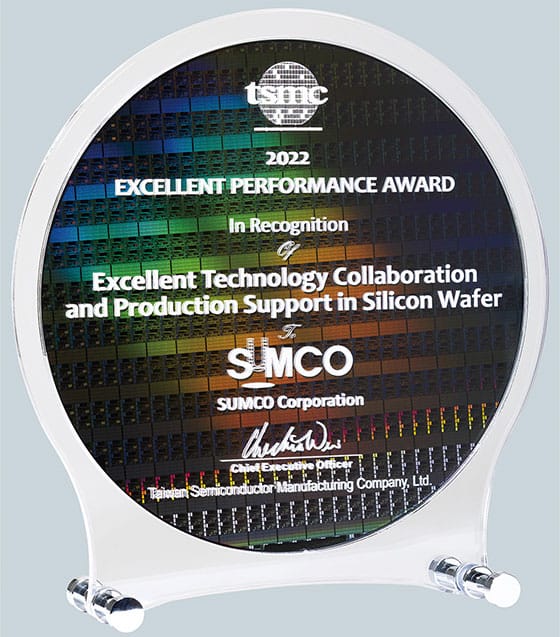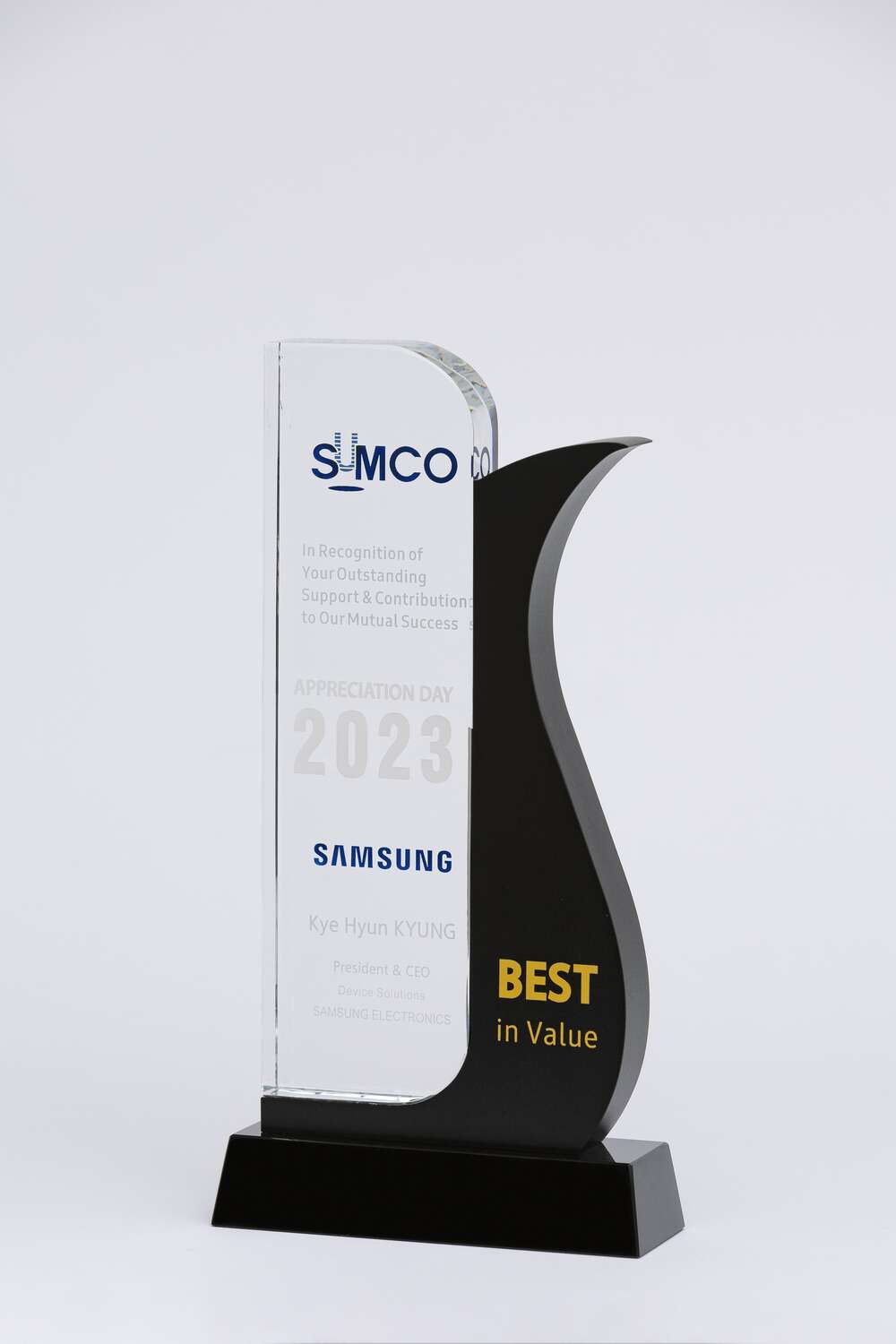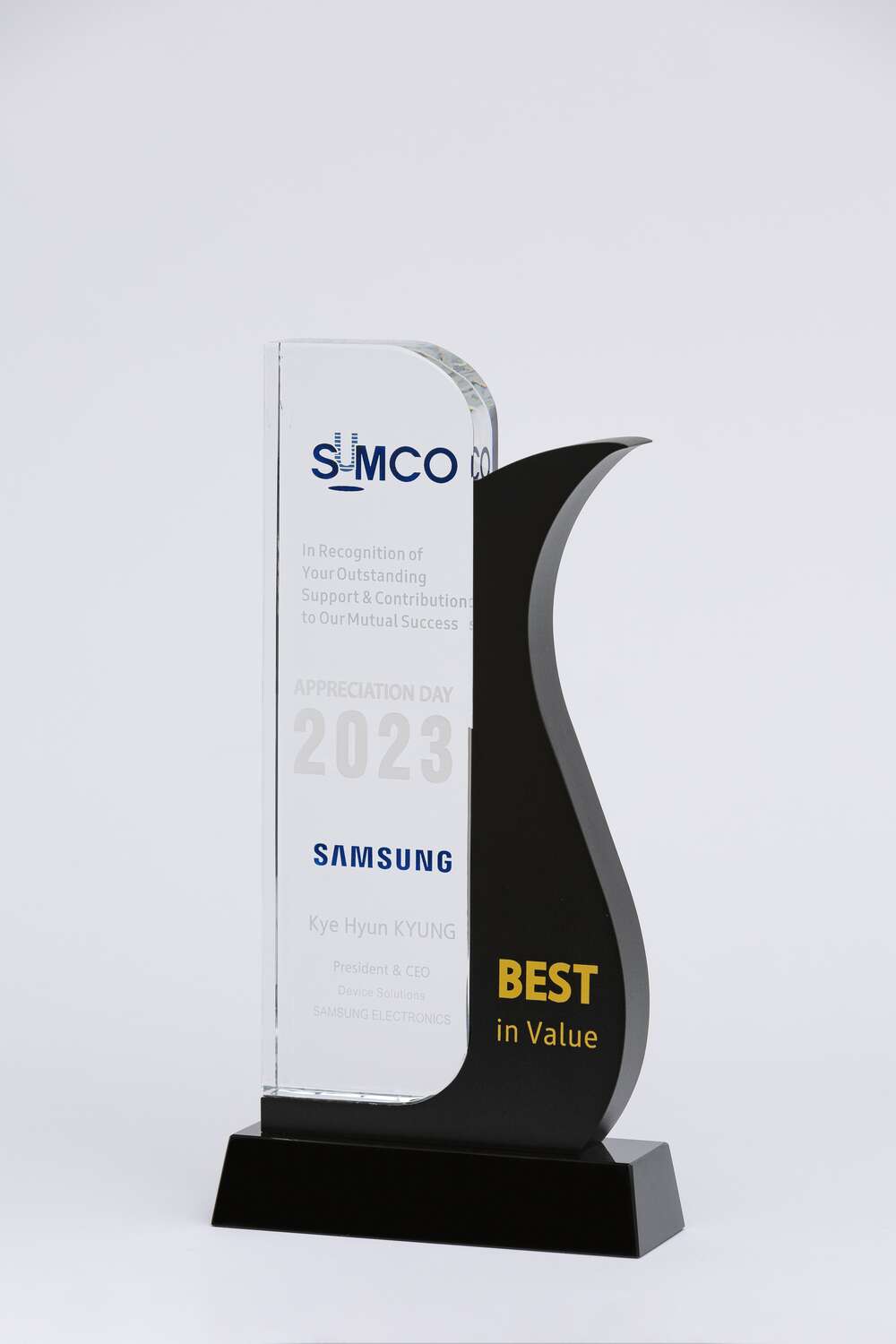 SUMCO's technological capabilities and abilities to ensure stable supply of products has earned high praise from customers, and has been officially recognized by many semiconductor manufacturers with excellent supplier awards.
In 2022, we received the Excellent Performance Award for the ninth consecutive year from Taiwan Semiconductor Manufacturing Co., Ltd. (TSMC), the world's largest foundry. We also received the 2022 Best in Value Award from Samsung, the world's largest semiconductor memory manufacturer. Based on this strong recognition, we will continue to promote collaboration with our customers based on long-term commitment and mutual trust, and focus on further improving our technical capabilities.
2. Stable Profitability Even During Economic Downturns
Net sales/Operating income/Net income
attributable to owners of the parent
The silicon wafer market is characterized by major short-term changes in its business environment. The SUMCO Group has been working to achieve a revenue structure that stable profitability even during economic downturns, and we are striving to improve our earnings.
Through continuous efforts in cost reduction, quality improvement and product differentiation from competitors, we will further strive to establish a corporate structure to ensure higher earnings.
3. Empower Employee
  Awareness of Profit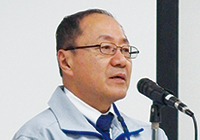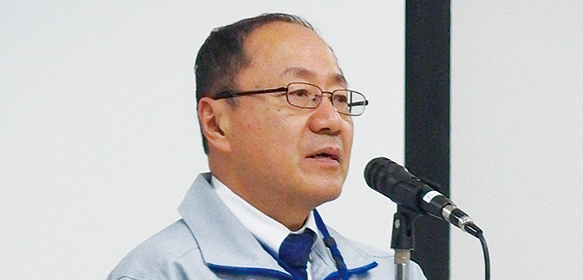 Business conditions briefing
(by Michiharu Takii, Vice Chairman)
The employees, rather than the chairman, president or executives, are the main manufacturers and sellers of our silicon wafers. All employees of the SUMCO Group share the SUMCO Vision, maintain an awareness of profit and cost, and work to identify and solve issues. To cultivate this awareness among employees, CEO & Chairman of the Board and Vice Chairman visit each plant frequently to hold management briefings in order to share the management issues facing the Group in the current business environment change.
(In 2022, in consideration of COVID-19, presentations for all employees were streamed.)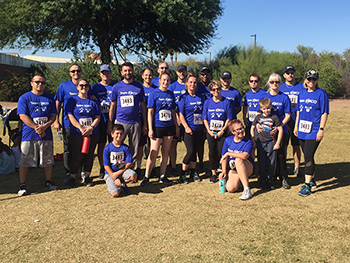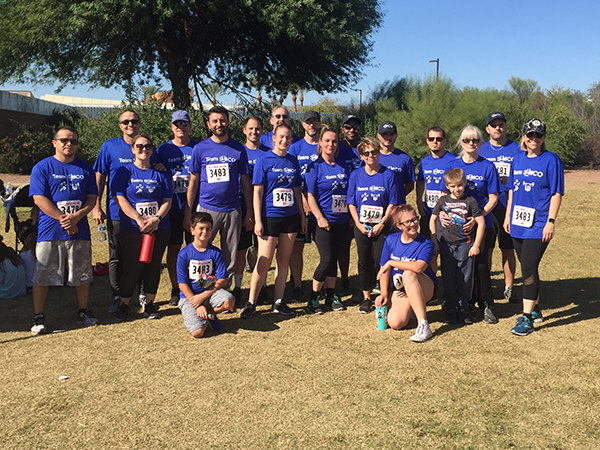 Employees of SUMCO Phoenix Corporation
We also recognize that without high levels of employee motivation, we will be unable to realize the SUMCO Vision of becoming "World's Best in Technology" and "Stable Profitability Even during Economic Downturns." The SUMCO Group works to boost employee motivation by establishing a variety of award systems to appropriately recognize and reward employees' efforts and achievements.
Moreover, with the aim of cultivating a workplace in which all employees can work comfortably, SUMCO has been pursuing initiatives to help employees strike a balance between work and child-rearing. As part of these efforts, SUMCO has established various work styles allowing employees to utilize flexible working hours to reflect their childcare responsibilities, and has set up an in-house nursery school at the Kyushu Factory (Imari), our largest manufacturing site.
4. Competitiveness in Overseas Markets
In addition to Japan, the SUMCO Group has plants in the United States, Taiwan and Indonesia, as well as a network of sales offices in various parts of the world, allowing us to supply silicon wafers to semiconductor manufacturers around the world. Nearly 80% of our sales come from the overseas market and we are proud to count all of the top 10 global companies in semiconductor sales among the customers of the SUMCO Group. The solid and longstanding relationships of trust developed with these customers represent a significant advantage to the SUMCO Group, and to further reinforce this advantage, we actively cultivate talented global human resources regardless of nationality.
Sales composition by region
Global top 10 companies in semiconductor sales (2022)

* Excludes Fabless, includes Foundry
Created by SUMCO based on various sources and databases