The Pursuit of Quality and Reliability
Why SUMCO Addresses Quality and Reliability

As a company that manufactures silicon wafers that represent the base materials for the semiconductors installed in all kinds of electronic devices, we see it as a social responsibility of the highest priority to ensure the safety and reliability of our products while making sure they comply with all applicable laws, ordinances and regulations.
For this reason, the SUMCO Group makes every effort to implement the stable supply of products that meet the quality requirements of customers and further boost customer satisfaction by implementing quality management in an appropriate and effective manner.

The SUMCO Quality Policy

It is the quality policy of the SUMCO Group to deliver world class quality and reliability through anticipation of future needs; continuously improving products, processes, technology and service for total customer satisfaction.

Quality Control System

In the SUMCO Group, all sites including affiliate companies in Japan and overseas have obtained IATF 16949 and ISO 9001 certifications. We strive to ensure stable levels of quality as well as further enhance it, and have made continuous improvements to our quality management system.

The SUMCO Group Mission Statement, Quality Policy and Targets
Quality Education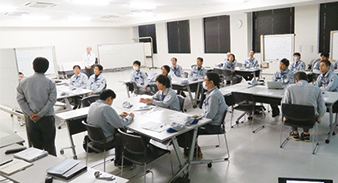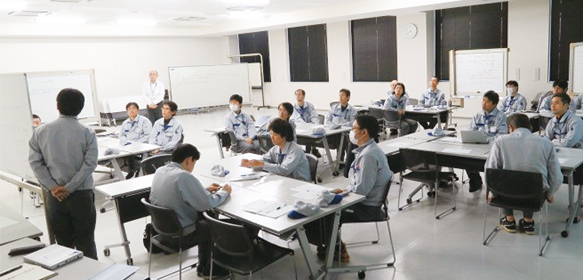 Quality education at one of the SUMCO seminars
To enhance product reliability and safety, it is necessary for not only those in charge but also each worker to have the mindset of a supervisor and improve their skills.
For this reason, we have developed quality education programs for each job and level of employee and assigned instructors for each education program to each production site to provide necessary education to the human resources that need it whenever required.
In 2021, having taken steps to deal with COVID-19, the SUMCO Group conducted around 330 internal seminars in an effort to enhance the knowledge and awareness of quality control on the part of employees.
Response to Quality Problems
Flow for Sharing Quality Problems
Should a plant become the subject of a customer complaint, experience an abnormality or other quality problem, the plant handles the problem immediately, investigates the cause and takes measures to prevent recurrence, in order to minimize the impact on customers.
When complaints or internal abnormalities occur, we consider the best known method (BKM) to prevent recurrences and swiftly deploy a response throughout the entire SUMCO Group as needed, and build systems to ensure similar issues do not occur in the future.
Initiatives to Improve Customer Satisfaction
Conducting Customer Satisfaction Surveys
To maintain our "first call" status among customers, evaluations received from customers are shared with relevant departments each time for continuous improvements, and analyzed from four different aspects: quality, cost, delivery and service (QCDS).
The results of analysis are shared among management and other relevant departments, incorporated into the improvement plans of each department, and used to further enhance customer satisfaction.
Communication with Customers
To further enhance customer satisfaction, we strive to improve the quality of products and services through two-way communication with customers.
As part of this initiative to promote communication with customers, we proactively hold technical communication meetings both domestically and internationally in order to grasp customer needs accurately and at an early stage, foster technological development at a rapid pace, and reliably provide products that match customer needs.
At the technical communication meetings, we make proposals based on our unique technologies, as well as check and follow up on the performance of our products. We position these technology conferences as opportunities to win recognition and trust from customers. The feedback and demands of customers learned from the technical communication meetings are utilized for continuous product improvement of our products and are reflected in business plans, such as for formulating technology development roadmaps that accommodate customers' needs for higher precision and enable product differentiation. By doing so, we strive to gain and maintain a strong presence among customers.
In recent years, we were unable to hold in-person technical communication meetings due to the COVID-19 pandemic, but we've continued to communicate with customers through web conferencing systems and other means.
Through these SUMCO Group initiatives to promote close communication with customers, we endeavor to provide the most appropriate information.
Flow for Sharing Customer Satisfaction (CS) Evaluation Information
Ensuring the Safety of Products
Management of the Chemical Substances Contained in Products
SUMCO ensures that the chemical substances regulated by law or those that customers have asked us to eliminate or reduce the use of are managed properly according to internal rules and standards.
Provision of Safety Data Sheets (SDS)
SUMCO makes available safety data sheets (SDS) based on JIS Z7253 to provide information on the related hazards of chemical substances used by the Company and to give instructions on how to handle them safely.