Top Message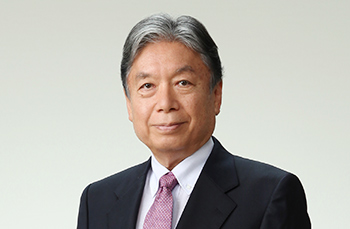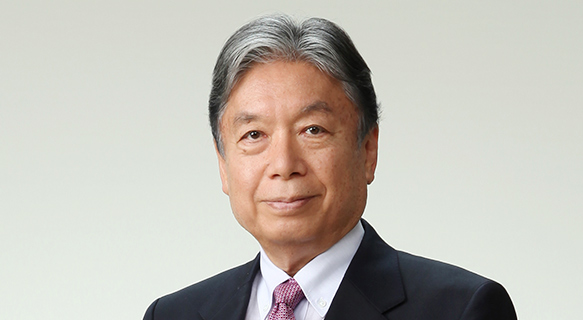 CEO & Chairman of the Board
Mayuki Hashimoto
While the COVID-19 pandemic is not fully settled worldwide, higher geopolitical risks including Russia's military attack on Ukraine have increased uncertainty in the international affairs and the global economy. In this circumstance, economic security is becoming even more important, and the semiconductor supply chain is attracting more attention. As a company that plays a part in the semiconductor supply chain, SUMCO is fully committed to fulfilling its responsibility for supplying silicon wafers so that we can contribute to society and the earth.
Aspiring to Serve as a Good Corporate Citizen
Semiconductor devices are used in every facet of our lives, from information terminal devices such as smartphones and personal computers, communications equipment essential for telework and web conferences, which have expanded dramatically during the COVID-19 pandemic, data centers that process and store large volumes of electronic data, home appliances including televisions and air conditioners, medical devices that affect human lives, through to automobiles, trains and other vehicles. Providing the technological base for such devices, silicon wafers can also be considered critically important as a key material in maintaining today's standard of living.

Additionally, the SUMCO Group's silicon wafers are used in power-saving semiconductor devices, IGBTs for electric vehicles (EV) and hybrid vehicles, and power-management devices for renewable energy such as solar and wind power generation, all of which is in our specialty field, thereby supporting to save energy, promote clean energy, and reduce greenhouse gas emissions, which contributes to resolve social and environmental issues.

At the SUMCO Group, under our philosophy to contribute to the development of industry as well as to the improvement of people's quality of life through the production and supply of silicon wafers, we strive to be a Good Corporate Citizen and engage in CSR and sustainability promotion activities in accordance with the SUMCO CSR Policy.

We identified the Materiality to be tackled on a priority basis to solve social issues and enhance corporate value sustainably while responding to the needs of our stakeholders. In 2021, we newly appointed an Executive Officer responsible for ESG and SDGs (Atsuro Fujii, Managing Executive Officer) and established the ESG/SDGs Council as an organization to tackle CSR and sustainability activities across the SUMCO Group under his leadership, thereby further strengthening our CSR and sustainability promotion system.
Corporate Governance
The SUMCO Group endeavors to maintain fairness, efficiency and transparency in its management by further enhancing its corporate governance.
SUMCO has adopted a Board of Directors structure comprising five directors who are not Audit and Supervisory Committee members (one of whom is an Independent Outside Director) and five directors who are Audit and Supervisory Committee Members (four of whom are Independent Outside Directors) since March 2021.
Compliance
SUMCO has established and implement the SUMCO Charter, a code of conduct that all officers and employees must comply with.
The SUMCO Charter broadly covers various social norms that ought to be followed by companies, such as fair business activities and blocking relationships with anti-social forces, as well as compliance with laws and regulations.
Similar charters have been established by all companies in the SUMCO Group. Our Group-wide efforts will continue to ensure that our corporate activities are sound and in accordance with social norms.
Risk Management
The SUMCO Group has a global market share of approximately 30%. Since the Group supplies high-quality silicon wafers to major semiconductor manufacturers around the world, we see the stable supply of our products as our most critical management challenge and an important social responsibility.
In addition to managing risks to ensure stable supply, SUMCO takes steps to maintain and improve its business continuity plans across the entire supply chain.
Environmental Conservation Efforts
The production of silicon wafers requires a great deal of electricity, water and chemical substances. For this reason, the SUMCO Group has established environmental targets, and strives to reduce its use of each of these as well as the amount of industrial waste generated.
In April 2021, SUMCO declared our support to the Recommendations of the Task Force on Climate-related Financial Disclosures (TCFD), and in June 2021, we made disclosure in accordance with the TCFD framework.
Additionally, in September 2021, the SUMCO Group set new goals for carbon neutral in 2050 toward the realization of a sustainable society.
Respect for Human Rights and Development and Utilization of Human Resources
The SUMCO Group regards respect for basic human rights to be an important social responsibility, so we have implemented various initiatives, such as prohibiting any kind of discrimination and harassment in the workplace, to respect the human rights of all stakeholders associated with the SUMCO Group, including those in our supply chain.

Furthermore, to develop and utilize human resources to become the "world's best in technology" as stated in the SUMCO Vision, we promote various measures such as sufficient training programs, sending for study at universities, etc., in Japan and abroad, and hold presentation and award ceremonies for research results, creating a company that "develops and values people."

An important element of human resource development and utilization is diversity and inclusion, the core of which is to promote women's active participation. In September 2021, we set a new goal of increasing the number of women in management positions and further various measures to recruit, retain and promote more women.
Health and Productivity Management
Based on a commitment to give top priority to the safety and health of our employees, we view their health as a critical management resource and have reinforced measures for health and productivity management since 2017.
In March 2022, SUMCO was selected as "the 2022 Health & Productivity Stock Selection," and six SUMCO Group companies as well as SUMCO were certified as one of the "White 500" corporation under "the 2022 Certified Health & Productivity Management Outstanding Organization Program" as large corporation for the fourth consecutive year.
The SUMCO Group aspires to promote various CSR and sustainability activities while endeavoring to fulfill its social responsibilities to the stakeholders who support us by actively reflecting their views and wishes, which are grasped through various types of dialog with stakeholders, in our management activities.
Relationships with Stakeholders

SUMCO endeavors to fulfill its responsibilities to stakeholders, who support our business activities.